Services
PC Computer Repair Services On-Site, Computer Troubleshooting Service, Computer Maintenance, Business Computer Network Setup & Configuration, Network Design - Implementation and Support, Computer Software Troubleshooting and Assistance, Data Recovery – Microsoft, CISCO, Redhat Engineers
PC Computer Repair Problems?
What are some of the problems that you may face with computer hardware and software, repair?
With computer systems, varying technologies, divergent and new operating systems, new complexities, where does one begin to list these? We see and deal with PC computer problems and complexities all the time, from the difficulties in initially setting up a system, even setting up a single computer for maximum use, to configuring 5 to 50 computers for networks, collaboration, sharing, and implementing very necessary firewalls, etc. And does software cause any PC computer problems? Does it ever rain? Do you breathe or sleep? YES. And we deal effectively and often with the havoc that even one software program can cause, or one hard-to-find hardware glitch. Hard drive crash, crashes? Data recovery? We work with and solve these problems on an everyday basis, and we're there for our clients when they need us. We help them maintain a smooth and productive environment where computers have taken centre stage. That's what we do.

Computer Service or Maintenance Problems?
Difficulty in trying to find reliable support expertise & capability?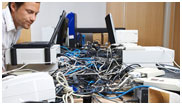 Who can provide reliable, expert PC service on small, one computer operations for, say, a sole proprietor, to the full blown systems of 50 PCs/work stations with all the bells and whistles? Where performance is absolutely critical to organization's mission? Individually or on a large scale service basis? Our clients found us and they like us, according to the reviews of our work for them, comments like, "I am so grateful I can't express how much your computer network repair service means to us...," and "You have relieved so much pain, frustration, headache...," No, we're not doctors, but we are specialists, and we are extremely good at what we do. We understand our clients. We know what is needed and how important that is. We understand our mission. We are growing because of this.
Computer Expertise?
In-house and on-site service, as applicable?
Microsoft Certified System Engineers
Yes, whatever is needed and indicated as the best way to solve the problem at hand. With combined, in depth, experience and expertise with MCSE, Cisco, A+, Net+, MCP, and PIX certifications, creew corrigo stands ready to work for you. Computer maintenance, network configuration and troubleshooting, computer hardware repair and troubleshooting - this is our sole business. We are PC computer repair specialists.